Among various styles of vector illustration, isometrics might be considered as one of the eye-catching ones.
What are isometric illustrations?
When and where to use isometric illustrations?
10 isometric illustrations from illustAC – free for personal & commercial projects
What are isometric illustrations?
Isometric design is a method of drawing a three-dimensional object in two dimensions using a technique called isometric projection. You can look at the image below to see the difference between isometric projection and perspective projection.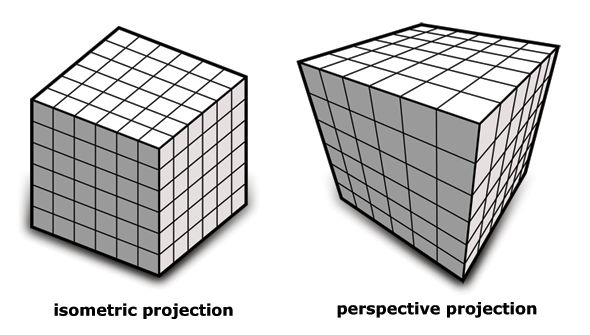 As you can easily observe that the world we are living in relies on perspective. Isometric illustrations bring up a new taste, a unique "perspective" to see the world – everything in both background and foreground in isometric illustrations looks equal.
A common use for isometric illustrations is in assembly drawings like to show parts of a machine or of a piece of furniture. Besides, they are used in UI design to attract more attention since they have shape, simplicity, and depth which make the design more visually appealing and easier to understand compared to flat designs.
When and where to use isometric illustrations?
As we mentioned above, using isometric illustrations brings more depth and conveys more details to the design. So, it's a good idea to use isometric illustration when you want to take a unique approach.
Isometric projection is applied for different types of designs like games, iconography, logos, infographics, or landing pages.
If you feel interested in isometric designs, you can absolutely go ahead and create your own isometric graphics. Or you can download isometric illustrations from many different illustrations and clipart stock sites like Shutterstock, Freepik, or IllustAC.
10 isometric illustrations from illustAC
You can use these illustrations for your personal projects. Commercial uses limited to 1 customer are fine. You are not allowed to use them in commercial projects that involve multiple customers.
illustAC – ACworks